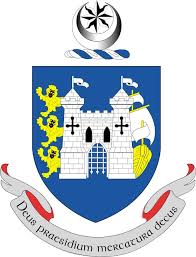 800 years of innovation & commercial skills
"God our Strength, Merchandise our Glory"
Drogheda has a long and proud tradition of Innovation, Industry, and Enterprise, dating back to the 1194, and the earliest known town charter in Ireland which was  granted to Drogheda by Walter de Lacy. It's port access and accessibility from Dublin to Belfast ensured that it thrived across multiple Industrial and Agricultural Revolutions.
It's long experience in Trade and Enterprise is evident in the Drogheda Coat of Arms and motto, 'God our Strength, Merchandise our Glory' . The entrance gate (Laurences Gate is still standing proudly – see 'Living' section) signifies the security of the walled town, and the 3 ships represents the trade which the town supported from earliest times. To the left of the gate is the three lions of England which would have been our main trading partner, and the commerce and trade of Drogheda, and its premier importance, is exemplified in the motto; 'Deus Praesidium Mercatura Decus'.
Young & Skilled workforce
Today, Drogheda is the largest and fastest growing town in Ireland, and has moved from a traditional manufacturing base to creating and nurturing high-value employment in Financial services, Pharmaceutical, Fintech,  Agri-Food, and Technology. The list of International companies based in Drogheda includes Coca-Cola International Services, Yapstone, BD Pharmaceutical, PCI, State Street/International Fund Services, Fondy payments, Amcrest, WaterWipes and many more. 
""True to our nature, YapStone forges a new path by choosing to invest its international expansion in the city of Drogheda with the rich talent pool along the M1 corridor," states Debra Tenenbaum, EVP/Chief People Officer at YapStone.
"As millennials look to purchase their first home or begin their families, having a progressive employer in Drogheda provides individuals choices outside of Dublin. https://www.idaireland.com/newsroom/yapstone  
"Tech talent is exceptional," says Sanjay Saraf, EVP/Chief Technology Officer, Yapstone. "We are very excited to employ Ireland's finest software engineers and build technology IP that will further revolutionize digital payments for shared economy and global marketplaces.  YapStone is investing in cutting edge cloud enabled technology, big data, API platforms, and modern NoSQL databases and tech talent in Ireland will have an opportunity to build great products and enrich their professional careers."